General
How do I get started renting an office, cubicle or desk?
Give us a call to schedule an in person meeting to view the space. Or, if you are ready to go we can coordinate all paperwork remotely.
Can I use the address as my business address for corporate filings, etc.?
Yes. As a work space rental client you have the same privileges as a virtual office client for use of the address, and business mailbox services. Use with state, federal filings, business license, banks, websites, business cards, etc. Although the address can be used as your corporate address for corporate filings, you can not list it as the Registered Agent address on your corporate filing due to state commercial code. TRUE Space offers Registered Agent Service for a nominal added cost if you are incorporating or forming an LLC, etc.
What is the minimum rental term?
3 months, after which agreements renew on a month-to-month basis.
Can my rental agreement state a rental term of 6, or 12 months?
Will TRUE Space work spaces work for SAM.gov government contracts and grant applications?
Yes, our offices, cubicles and desks rentals all meet SAM.gov requirements. Our rental agreement is also constructed for SAM.gov compliance. Please note that for most government contracts and grants a minimum rental term of 12 months must be specified on the rental agreement. Some contracts or grants may require an actual office instead of just a Designated Desk based on security restrictions.

Important: The SAM.gov requirements to get a "cage number" state that a virtual office can be used, but the fine print in the requirements make virtual offices and shared space locations unusable.
Excerpts from SAM.gov that render a virtual office or shared work space unusable for government contracts or grants.
iii. Agreements with only mail service, phone answering service or access to open space will not be valid for use as a physical address
iv. There must be a designated desk, office or suite number indicated within the agreement
If I rent an office, can I received packages delivered to the TRUE Space address?
Yes. As a general rule we do not offer package receiving services for our virtual office clients, but we can receive occasional packages for our Office rental clients. It is important to clarify that the allowance is an occasional delivery, not regular flows of product or other materials used for resale or distribution.
What types of businesses are a good fit for a work space rental, and which are not?
TRUE Space work spaces are for general office purposes. The following is a list of business services NOT permitted at a TRUE Space location.
-Auto Brokers
-Bail Bonds
-Beauty Services (hair, nails, etc.)
-Child Treatment/Counseling/Testing
-Counseling
-Criminal Law Practice
-Criminal Rehabilitation
-Family Law Practice
-Home Healthcare
-Massage
-Medical and Non-Medical Patient Visit
-Production/Manufacturing
-CBD, Marijuana, Pharmaceuticals, Drugs, and related products
-Radio/Streaming Broadcast
-Recording Studio
-Retail (online retail is fine, but can not use office to store inventory or package shipments)
-Seasonal Tax
-Storage
The aforementioned unacceptable business services list doesn't cover every type of business that may be excluded. We try to be open to as many business types as possible. If your business is not a typical office environment business, give us a call to find out if it would be acceptable.
Do you have a receptionist on site to meet my clients and answer calls?
No. TRUE Space does not staff locations with a receptionist. But, we do display a directory with your business name and phone number listed so visitors can call when they are in the reception area.
Office Rentals
How many people can I have working in my office?
Each office has a maximum capacity specified on the information page for that specific office. There is a monthly "Additional Person in Workspace" cost for each person in excess of 1 that you have working in the space or who has access to enter the office.
Can I use my office for weekly team meetings?
The maximum occupancy for an office is listed on the specific office information page. You may have up to that limit in your office at any one time. But, team meetings typically should be held in the conference room due to voice volumes that exceed normal office usage and which could negatively impact others in the TRUE Space office.
Do offices meet HIPPA compliance rules for document storage?
In general Yes. You have a locking entry door for controlled access and locking file storage. But, from experience, you typically would need to bring in a much larger locking file cabinet to effectively store medical records/files.
Can I bring other furniture into my office?
Yes, but all items must be approved with the TRUE Space Office Manager. Large items like couches are not allowed. Furniture items can only be brought in to the building outside of normal business hours and special procedures need to be followed (elevators, doors to be used, etc.). No TRUE Space furniture can be removed from the office.

Space heaters are not allowed in any TRUE Space office.
Cubicle Rentals
Can I use a cubicle to meet with clients or team members?
No. Cubicles are designed to be single person work stations. We do understand that you may briefly have a need to meet with your worker in the cubicle to get them set up or to transfer information briefly. The key is to be discreet and respectful of others in the work area so as to not disturb them in their work. If you need to conduct a longer meeting the conference room can always be rented.
What are common uses for a cubicle?
Cubicles are a great low cost way to get your business out of the house or a place to staff your first employees. Some common cubicle uses we have seen include: phone receptionist; operations coordinator; scheduler; logistics; attorney; paralegal; researcher; programmer; web developer; tele-sales; call center services; thesis work; general small business operations; remote worker; contract worker, etc.

Additionally, many use cubicles to establish a physical business address to comply with SAM.gov requirements when applying for government contracts or grants.
Designated Desk Rentals
Can I conduct phone calls from my designated desk?
Designated Desks are classified as "Silent work stations"? But if no one else is in the desk area/room it would not be a problem to make or receive a phone call. The silent work station rule helps eliminate distractions for people working nearby.
Can I meet a client or work with someone at my desk?
No, desks are personal work stations and are considered "silent work stations".
How many people can share a designated desk?
A maximum of 2. There is a monthly Additional Person charge of $25.00 for more than one person.
Can I leave things on my desk when I am not there, or decorate my desk area?
Generally No, but computer monitors, keyboards, and docking stations are permitted provided you keep them looking clean and cables neat and orderly. Designated desks are in shared areas so everything needs to be put away into your locking file cabinet when you are not there.
What are Designated Desks commonly used for?
There are many uses, but most commonly they are used for the following:
- Quiet independent work stations for business owners or their employees
- Establishing a physical business address for compliance with contracts
- Establishing a physical address to be eligible to apply for loans (Designated Desks meet the minimum threshold requirement for some lenders, while others require an actual office rental)
- Commonly used to establish a physical business address to comply with SAM.gov requirements when applying for government contracts or grants.
Cancellation
How do I end my work space rental?
Cancellation is easy. Just email us at Office@truesp.com giving 30 day notice of cancellation (be sure to include your business name).

Keep in mind that all rental terms are full calendar months and rental periods always end on the last day of a calendar month. Giving 30 day notice of cancellation on July 15th results in an August 31 last day of service. Additionally, if giving notice on the 1st day of a 31 day month it is possible to end your agreement that month (Example: Give notice on January 1st, last day of rental can be January 31st.

All cancellations are subject to the minimum rental term specified in your rental agreement.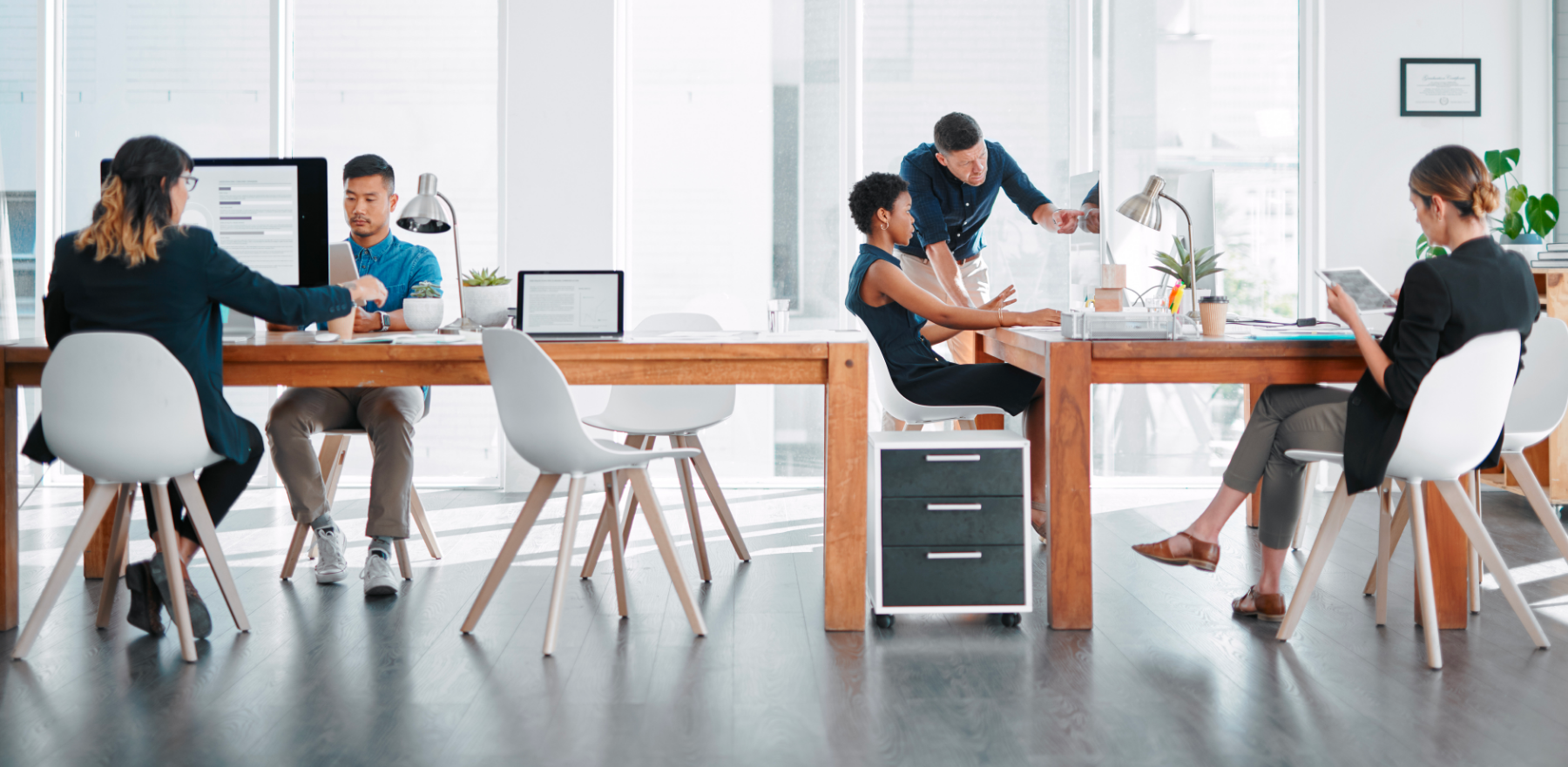 Ready to join us today?
Contact us to learn more about workspaces or to get started today.
Get in Touch